*Be sure to click on the pic or you will not see the entire photo*
I love cardmaking as much as the next paper addict, but sometimes I just do not feel like it. Obviously, at this point in my life, I cannot just send any old card to my friends & family. They know that I make cards so if I send the $1.99 Hallmark through the mail, it's just not cutting it. So, I found a quick way to get the same effect of a homemade card, but it's my way of cheating. Here is what you will need: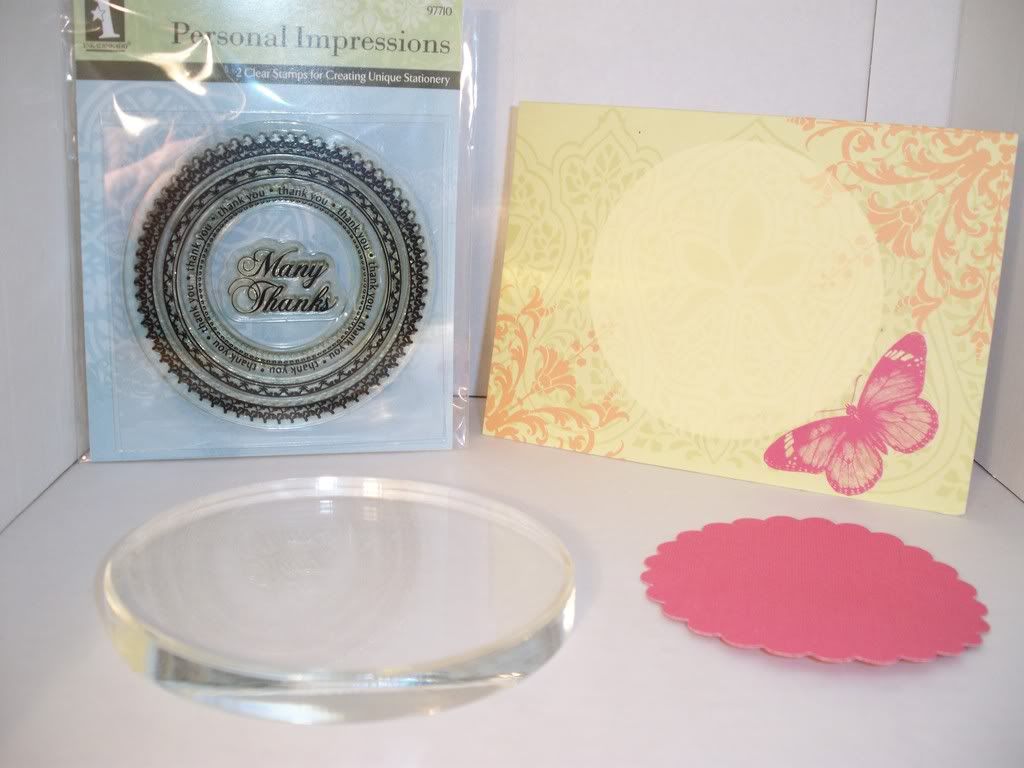 Inkadinkado just came out with these beautiful premade cards that come in a variety of colors called Personal Impressions. The cards even come with matching envelopes! The card that I used is called "Bombay Butterfly." The area to be stamped is cleary highlighted in the middle & works perfectly with the icon & border clear stamp sets. You can get this set of cards & a bunch of other styles just like it at my store
http://www.wishonascrap.com/bombay-butterfly.html
For the stamp, I used "Many Thanks." The stamp is actually two in one - one is the border & one is the sentiment. I also have these stamps & others just like it in stock. You can see it here
http://www.wishonascrap.com/many-thanks.html
I definitely suggest playing around with the stamp before you go stamping onto the cardstock. Unfortunately, I made the mistake of being a "hotshot" and not practicing first with my new stamp & so I ruined one card. But, have no fear because I used that "ruined" card by cutting out the butterfly in the corner of it & using it as a pop-up on my finished card. To make sure that I did not destroy another card, I used my Giga Marvy punch in the scallop circle and stamped onto a sheet of cardstock that matched the butterfly on the card. This way, if I messed up with the stamp again, it would not ruin the actual card.

Here is what the finished card looks like:
It's not that big of deal, but it is done in no time flat. Best part - people still feel like they are getting a homemade card =) And, they kinda are ;)
Hugs,